First, let me say that I've been having a hard time forcing myself to bed early and getting up earlier. I actually got up on time today. With the boys not really getting to bed until 10, I am left with little time alone. I guess I will have to get them in bed by 8 and allow them to read until 9 rather than in bed by 9, read until 10. I'm just thinking out loud here. Ben has had a difficult time going to bed these three nights, though. He finally fell asleep around 11 on the floor next to his door.
Our workload is much heavier this year now that Ben is doing spelling and grammar. Nathan has also started spelling this year. It is taking a bit of time getting used to Saxon math for K-3 as well. I used Saxon with Aaron, but we started in book 5/4. So far, I think the approach is perfect. The boys' attitudes have been quite pleasant, and I think the hours of attention from Mom have also helped. Ben has really surprised me as he also wants to listen in on Nathan's grammar lesson. We are also reading some GREAT read
alouds
right now. I so love reading books I never enjoyed as a child (well, okay -- perhaps some of them were not around then).
I'm learning how to work with both of the boys at the same time. For example, while Nathan is doing handwriting, I work on spelling with Ben, and vice
versa
. Science, history, poetry and read
alouds
are always done together.
I thought I'd share what we are using right now -- in pictures:
Handwriting: Getty

Dubay

Italic C
Both Nathan and Ben are starting this level.
Spelling: Natural Speller
Nathan is on 3rd grade words, Ben 1st/2
nd
.
Rod and Staff -- English 2 -- Preparing to Build
This is Ben's grammar book. Nathan used it last year.
Easy Grammar and Daily Grams -- Grade 3
This is Nathan's grammar. I love this program. I used it with Aaron as well.
They both use this.

Pathway Readers -- Busy Times
This is Ben's reader.
Christian Liberty Press -- Nature Reader 4
This is Nathan's reader.
Jenny and the Cat Club: A Collection of Favorite Stories about Jenny

Linsky
by Esther Averill
This is one of the cutest books ever! I discovered it on the New York Review of Books website.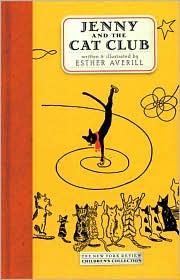 Little Black Ant by Alice Crew Gall
This is how every nature book should be written for children! It is a delight to read, and it is astonishing how much is learned about ants.
I am unable to locate a photo of this. It is an out-of-print book, as is the case often with really great books.
Saxon Math 2 and 3
Ben is level 2, Nathan is level 3
History:
Story of the World -- Volume 2
We are starting with Chapter 15 this year.
Science:
A Study of Vertebrates
We spent Monday and Tuesday finishing up invertebrates from last year (ants and wasps) and are spending the rest of the week on an introduction to vertebrates. We will then focus for a month on amphibians.
Animals with Backbones
by Evan Moor
Honestly, most of these worksheets are really too young for my boys, despite the fact that it's designed for grades 1-3. I plan to use just a few of the sheets. You can actually see inside the entire book at
http://www.evan-moor.com/Title.aspx?CurriculumID=6&

ClassID

=163&

SeriesID

=115&

TitleID

=406&

EmcID

=413
A First Look at Animals with

Backbones
by Milicent E.
Selsam
The Glow-in-the-Dark Book of Animal Skeletons
by Regina
Kehney
This is a great book that allows the reader to see the skeletons of individual animals.